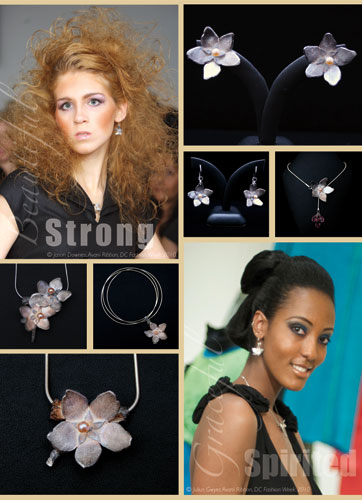 Transcendence
Transcendence, Melissa Lew's new line of eco-friendly jewelry, was premiered at Avani Ribbon's Eco-Fashion Show at DC Fashion Week 2010.  Transcendence is based off the award winning series, Transcendence 3, and is inspired by the pink clouds of blossoms in the Spring and the transcendent, fleeting nature of the beautiful cherry blossoms.  In Buddhism, the cherry blossom is a reminder of the transience of life.  In Chinese symbolism, the cherry blossom is a symbol of feminine strength and beauty.
Stunning and Eco-Friendly
Not only is Transcendence a stunning collection of jewelry – it is also a green lifestyle statement.  Each piece is individually hand carved from recycled fine silver by the artist.  Blossoms are approximately 1 inch in diameter.
To Order:
Please contact me to place an order!  Orders take approximately 2-3 weeks to complete as they are made to order.  Thank you!