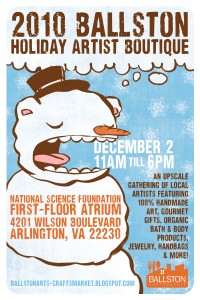 I am happy to announce Melissa Lew's participation in the 2010 Ballston Holiday Artist Boutique—an upscale gathering of 15 local artists featuring the best in handmade, alternative art.
This new, crafty endeavor will be held on Thursday, December 2nd from 11:00 AM – 6:00 PM in the National Science Foundations' beautiful first-floor atrium. This is the perfect time to do some holiday shopping!
The Ballston Holiday Artist Boutique features 100% handmade art, jewelry, organic bath & body products, handbags, children's fashion, gourmet gifts and more!
For more information, a complete vendor list, updates and a glimpse of the Boutique's art, check out the Ballston Arts & Crafts Market blog at http://ballstonarts-craftsmarket.blogspot.com/.
I hope you'll join us and support your local artists. We'll personally thank you!