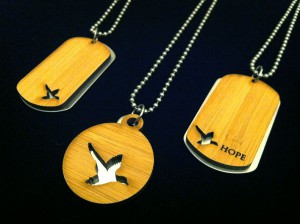 This line of eco-friendly jewelry is inspired by the symbolism of a bird in flight (seen in the Becky's Fund logo) – it represents the spirit of hope, beauty, and journey. It symbolizes the hope for an end to domestic violence.
Each pendant is made from bamboo (sustainable) and stainless steel (100% recyclable) and comes with a 24" stainless steel ball chain that can be easily resized by cutting excess chain with pliers/cutter.
50% of each sale goes to Becky's Fund – let's help end Domestic Violence!
To purchase, please go to http://store.melissalew.com/index.php?main_page=index&cPath=37.