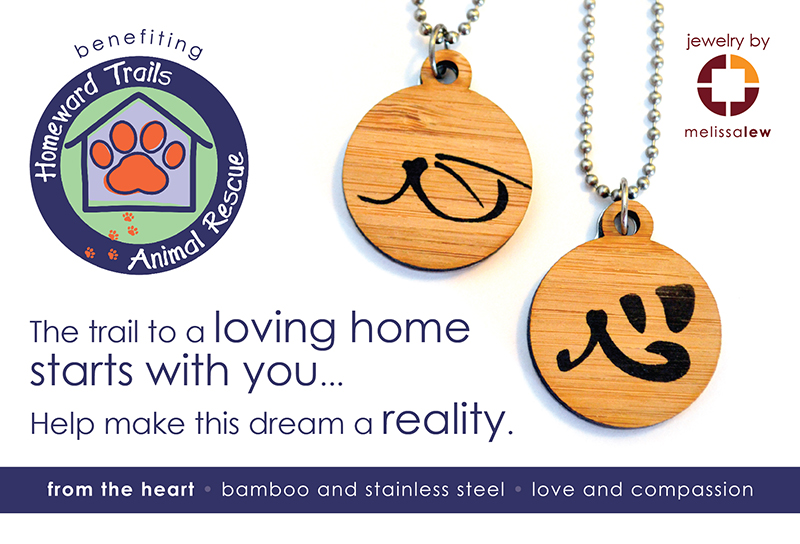 Click here to purchase a dog necklace.
Click here to purchase a cat necklace.
These special Homeward Trail pieces, created by artist Melissa Lew, are made from bamboo and stainless steel.  They feature modern ink paintings of a cat or dog face, inspired by the Chinese character for heart.
Materials: Bamboo, Stainless Steel, 24" Stainless Steel Ball Chain
The trail to a loving home starts with you. Wear or gift a piece (or 2!) of the Homeward Trails jewelry line to help make this dream a reality for thousands of cats and dogs.  50% of all sales directly go to Homeward Trails to help support, provide medical care, and find loving homes for thousands of animals in need.
The purchase of 1 necklace could provide 2 doses of heartworm preventative, 2 doses of flea/tick preventative, or a single rabies vaccine for a dog or cat.
The purchase of 3 necklaces could provide a single combo test for a cat or heartworm test for a dog. It could feed a dog for a week, cover the cost of a vet exam, or purchase 80 pounds of cat litter.
The purchase of 5 necklaces could provide gas to transport a van load of animals from a rural shelter, neuter a cat, or provide a full vaccine series for a puppy or kitten.
The purchase of 10 necklaces could cover the cost of an x-ray, spay/neuter surgery for a dog, or provide a month's worth of food for the cats at Kitty City.
Care:  Please follow these tips to ensure your jewelry is looking its best, year after year!
Remove jewelry prior to swimming or bathing.
Apply perfume and other beauty products prior to putting on your jewelry.
Use a slightly damp cloth to clean your jewelry. Do not use jewelry cleaners.