Celebrate the Lunar New Year with these delicious, flaky, savory scallion pancakes. The Lunar New Year (or Chinese New Year) is also known as the Spring Festival…so these scallion/spring onion pancakes are the perfect way to celebrate the warmer months to come.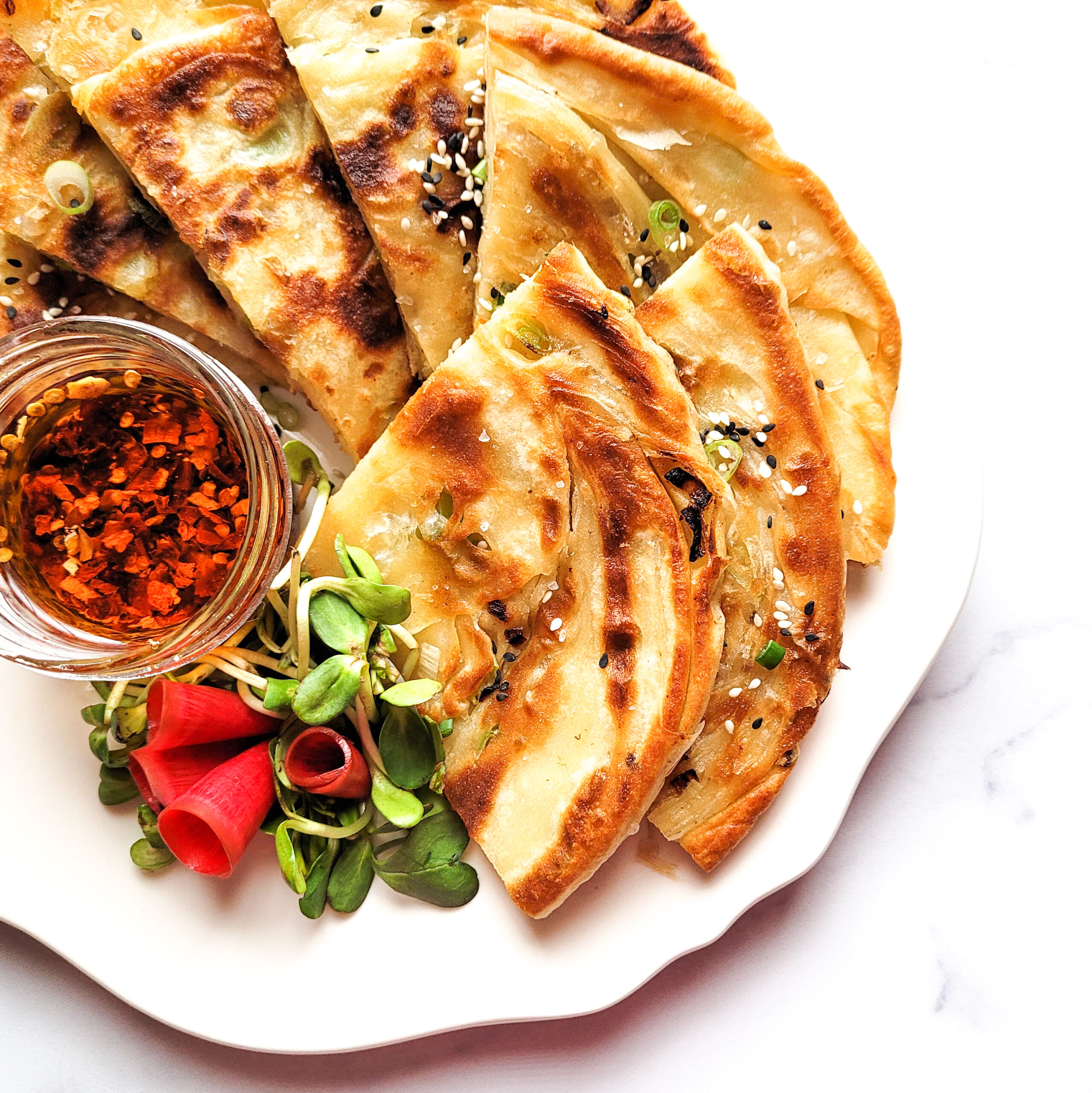 Scallion Pancake Recipe
Makes 2 large scallion pancakes (serves 4).
Mix 2 cups AP flour with 1 teaspoon of salt and 1 cup of room temperature water. Knead until it forms a smooth ball (add additional water or flour as necessary – if too wet, add more flour. If too dry, add a bit more water). Place in oiled bowl, cover, and let it rest for 1 hour.
Finely dice 2 shallots and cook in a little bit of vegetable oil to soften. Put aside to cool. Finely slice 4 scallions (without the ends) and put aside.
Lightly grease your work surface.
Roll out rested dough into a thin rectangle. Lightly brush dough with vegetable oil. Sprinkle entirety of shallots and scallions on dough. Sprinkle with a dash of salt.
Loosely roll up dough into 1 log and cut into 2. Twist dough logs and then coil each into the shape of a cinnamon bun.
Lightly grease your work surface, and roll out each into a thin circle.
Add a bit of oil to your pan and heat on medium. Place pancake on pan and cook each side until golden brown (about 3-4 minutes total). Repeat for the other pancake.
Serve while hot with some chili oil and/or soy sauce. You can garnish with sesame seeds, greens, and pickled radishes if desired.
I hope you enjoy this recipe – it is one of my favorites!
*Note: Sometimes, I like to add turmeric and garlic powder to the dough, so have fun experimenting!